Upper Extremity
Thumb Spica
Custom molded to ensure a good fit, the thumb spica provides support and protection to the metacarpophalangeal and carpometacarpal joints.
Indications:
– Game Keeper's Thumb/Skier's Thumb
– Arthritis Pain
– Post-Operative Rehab.

Wrist Lacer
Easy to apply wrist brace provides good support to stabilize the wrist and can be customized for specific patient needs. Can be an off the shelf style or custom made.
Indications:
– Post-Operation (once cast is removed)
– Sprains and Muscle Strains
– Tendonitis
– Carpal Tunnel Syndrome

Wrist Hand Orthosis (WHO)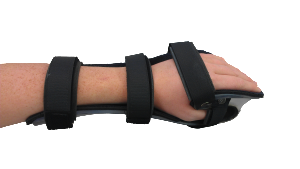 A custom made brace to help prevent deformity and realign the wrist and hand following stroke (CVA) or due to neurological condition.

Tennis Elbow Strap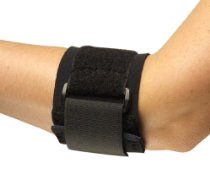 A comfortable, low profile design that aids in the treatment of tennis elbow (lateral epicondylitis) or golfer's elbow (medial epicondylitis). The elbow support provides relief with adjustable pads that compress the extensor and flexor muscles without creating a tourniquet around the forearm. The soft gel pads also dampen vibration.

Elbow Orthosis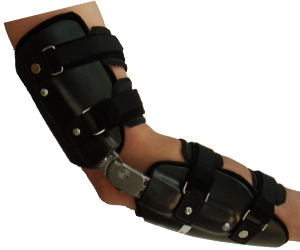 A custom made brace to protect the elbow following injury or post-operatively.
©2008 Bouma Orthotic Clinics Inc.