Clinics
In addition to our main clinic in Sherwood Park, we have weekly clinics in several outlying areas to better serve our patients' needs. If it is more convenient for you to make an appointment at one of the clinics listed below, please call our toll-free number (1-877-417-7008) to find out when we are next in your area.
 We travel with a customized mobile lab which allows us to make adjustments to devices on site.  
Home visits can also be arranged in Edmonton, Sherwood Park and surrounding areas if it is difficult for you to make it to our clinic.
We have clinics in the following areas:
–

Camrose


–

Edmonton


–

Two Hills


–

Vegreville


–

Wetaskiwin
                                                  2020 Calendar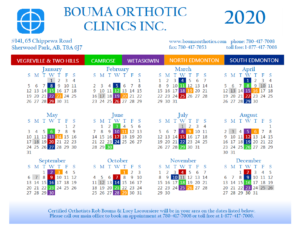 <